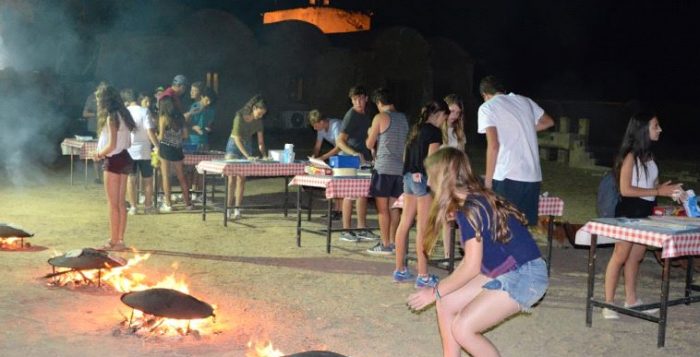 From Mexico to the kibbutz: Teens retrace pioneers' footsteps
Go and hina, they don't know how," a couple of Israeli teens are instructed atop the desert lookout point on which they are making dinner together with a large group of teenagers from Mexico City.
It is rather surreal: sixty five 15 to 16 year olds transplanted from the bustling Mexican capital to the remote southern kibbutz of Gvulot. But a quick tour around the kibbutz reveals that the connection is not as tenuous as it may seem; there is already a piece of Mexico standing brightly in the heart of the community – the Mexico House guest rooms.
Mexico City and Gvulot are "sister cities," and a network of Jewish schools in Mexico, together with Keren Hayesod Mexico funded the renovation of the buildings.
"It's our home away from home," said Nathalie Moscona, a participant in a monthlong tour of Israel by the students from Mexico City's Beit Hasefer Haivri Sefardi. The Mexican-funded buildings are painted yellow and orange, and boast an authentic design.
Mitzpe Gvulot is of historic significance, being the first lookout point established in the Negev, built by pioneers in 1943. "It's definitely an inspiration," said Beto Habif, reacting to the fact that the pioneers were just a couple of years older than him.
The Mexicans are joined by a much smaller group of Israeli teenagers from the neighboring kibbutz Tze'elim, with the aim of providing an opportunity for the two groups to mix.
"It's fun to have new people coming here from abroad, because it's usually pretty boring here," said 17-year-old Ariel Dotan of Tze'elim, who added that it is important for people to visit the Negev.
Gvulot Tourism, in collaboration with the Jewish Agency's Partnership2gether People-hood Platform, which links Diaspora and Israeli communities, tries to provide the youth with a taste of what life was like for the pioneers.
The leaders relate the history as they retrace the pioneers' footsteps to the lookout point, before emphasizing the idea of cooperative labor by having the group prepare dinner together and cook it over an open fire.
The Mexican group is one of many from all over the world who come to visit Gvulot.
"It's very interesting, because this is literally how Israel began," said Mexican student Jennifer Schneider. "It makes me feel part of history and that I am continuing something important." "The experience of witnessing Jewish youth coming to Israel on programs never ceases to amaze me," said Rotem Buksbaum," CEO of Gvulot Tourism. "The encounter with the kibbutz, one of the milestones in the establishment of the state, provides a double connection to Israel and the unique way of life that exists only here.
"Part of the experience is the activity here on the lookout, and to stay in the guest houses their parents donated," Buksbaum told The Jerusalem Post.
"They really connect to the experience and enjoy it, they see what kibbutz life is like," he said.
While acknowledging that some students may take a few years to fully absorb what they learned, he said the experience will stay with them for many years to come. "If they don't come to Israel with their schools, I'm not sure they would come at all."
Joe Kolbe, a German immigrant who fell in love with kibbutz life at the age of 21 when he came to Israel in 1982 is also part of the Mitzpe Gvulot tourism team.
"I'm a kibbutznik with all my heart," he said, and it's easy to pick out his daughter, who is expertly fanning the flames in preparation for the meat. "It's important to honor the people who built this place and to pass it on through the generations," he said.
Kolbe also remarked that it's an important site agriculturally, noting that 70 percent of Israel's vegetables come from the Eshkol region. "We manage to have a normal life here in the desert," he said alluding to the political and security challenges faced by Gaza border communities.
Ivan Styrgatcz, one of the group's leaders, is skeptical about the impact the trip has on the teens, however.
The 29-year-old Argentinean oleh remarked that many of the Mexicans come from wealthy families, describing them as "spoiled."
"Sometimes I think if we were in Miami it would be the same; they prefer to be on their cellphones," he lamented. "But I think this trip will hit them after the return home. Maybe then they will reflect on what they experienced here and they will start to absorb it more."
Some of the students, however, appear to already have begun reflecting.
"Gadna [an IDF preparatory program] is a really important experience – you learn things you wouldn't have the opportunity to learn otherwise," said Moscona. "In Gadna, I had to share showers, clean my room, have everything organized and wear the same clothes for five days. You learn to value the luxuries you have at home."
Another participant, Ilay Saadia chimed in: "Also, the food isn't good there, but I reminded myself that Israeli soldiers have to eat this food for three years, at the same time as they are risking their lives."
Saadia wants to serve in the IDF but said his parents won't allow it, so he instead plans to return to Israel to do Marva, a two-month-long IDF basic training program. The motivation to do this, he said, comes from his view of Israel as a safe haven for the Jewish people.
"One day, if there are problems in Mexico, I know I have a home here in Israel. When I arrived, I felt like I was at home."
Moscona agreed: "It's very important for all Jewish young people to come to Israel because you get really connected with your history and you know you really have a place here."
Both said they feel significantly safer on the streets of Israel, than in Mexico.
Moscona also said she had learned the value of charity; the group attended an inauguration ceremony for an ambulance that had been donated by several schools in Mexico to the Eshkol region. "Most of the students contributed to it and it's not a lot of money per person, but put together it's very meaningful," she said.
Their teacher Rachel Ashkenazi, who heads the Jewish Studies department at their school, said the trip is important for strengthening the students' connection to Israel and their identity as Jews. Ashkenazi, who is on her eighth trip accompanying schoolchildren to Israel, added that it's important to maintain the relationship between Diaspora Jews and Israelis.
"The children gain an understanding of Israeli society and they see the actual places they learn about in their Torah studies – it helps them understand the history when they can stand in the place where it happened," she said.
Fuente: jpost
La entrada Alumnos del Colegio Sefaradí se reunen en Gevulot aparece primero en Comité de Madres del Colegio Hebreo Sefaradi .